Our History
Bridge of Life School started with a simple mission – to teach English – and a $250 donation to help make it happen. Since then we have expanded to four different sites and reach nearly 300 students via English, computer, and pre-primary courses. Learn more about our history, how we have grown, and what we are doing today through the gallery below.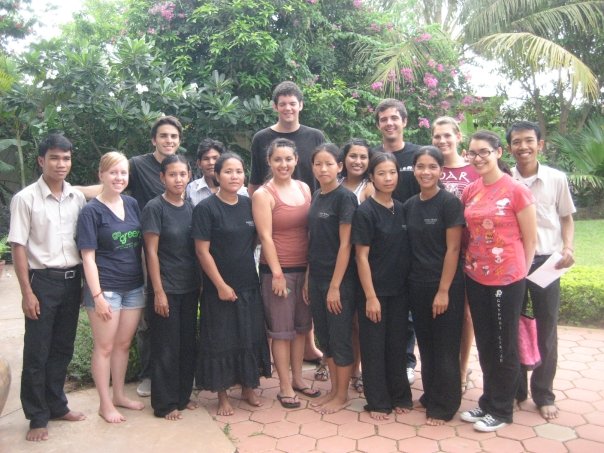 Bridge of Life School was founded by Edward Roohan and Sok Prin in July 2009. Edward had visited Cambodia through a volunteer program and met Sok who was a teacher. Sok mentioned his desire to start an English school to help his village.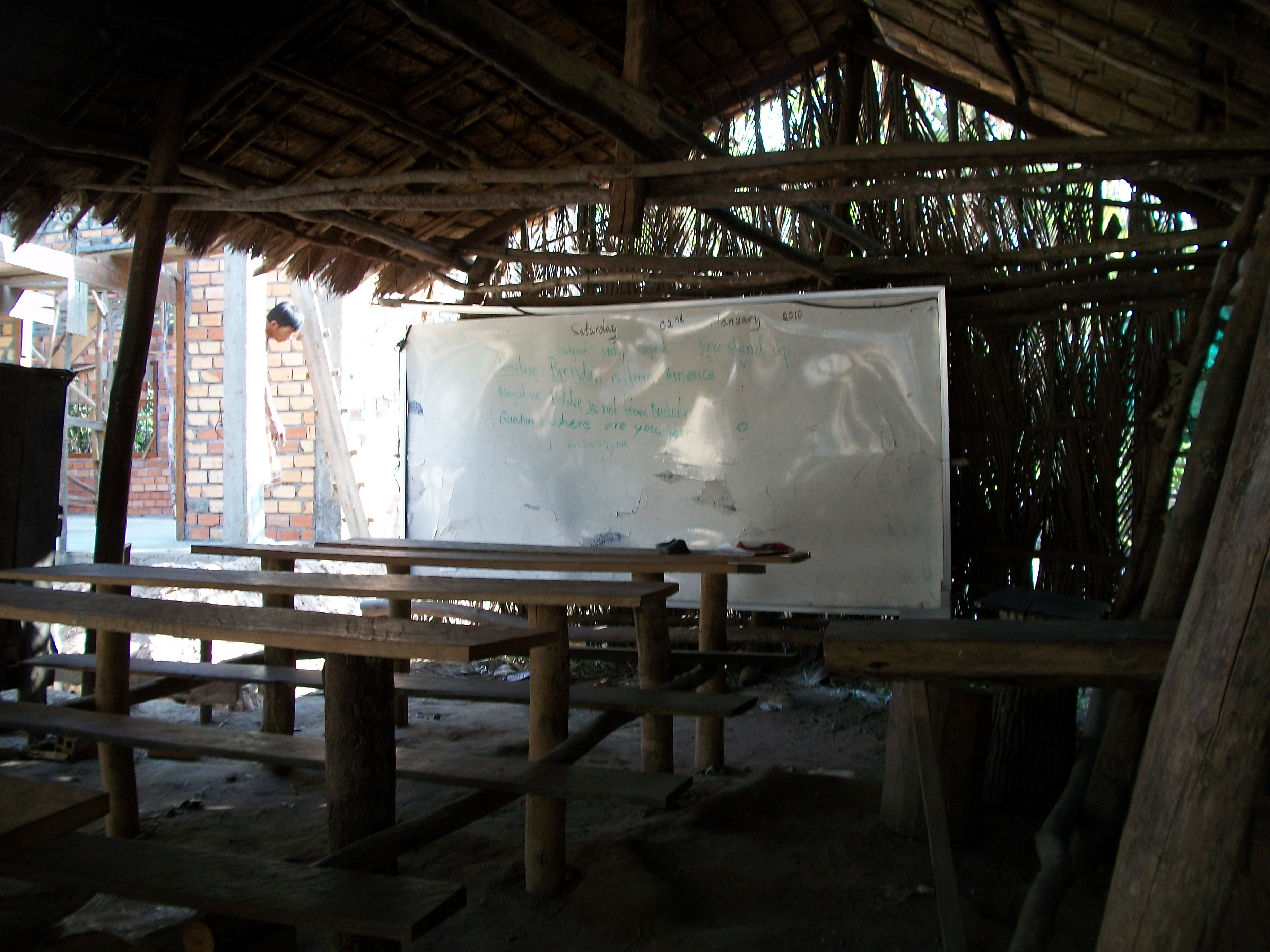 After a lot of discussion and planning a $250 donation was made to start the school. Land was donated and an old wood building already existing on the property was renovated into a simple classroom for eighty initial students from the village.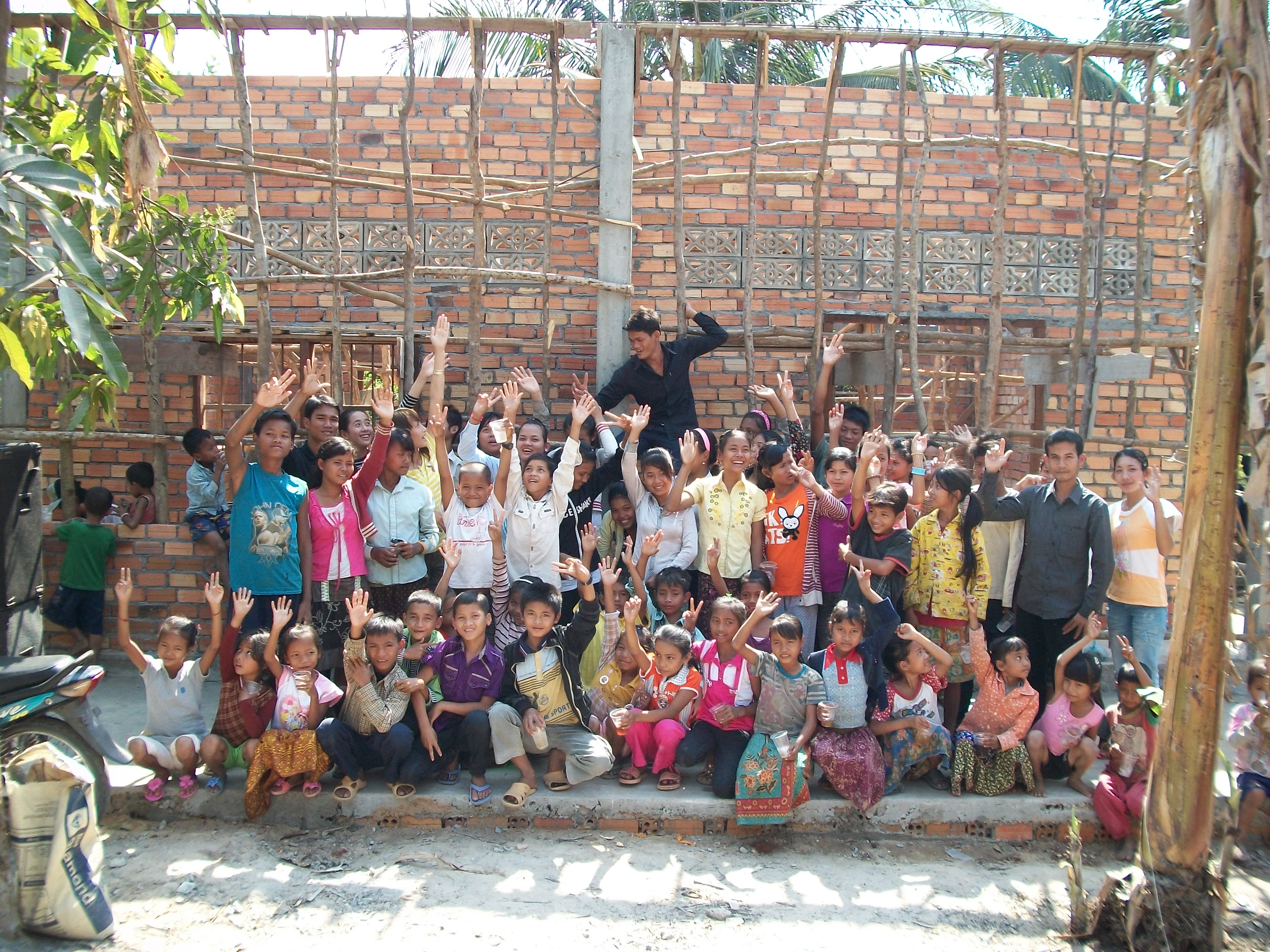 Due to overwhelming participation the initial building became inadequate with some students forced to stand outside during class. We then began a major fundraising effort and were able to construct our first brick and mortal school in early 2010.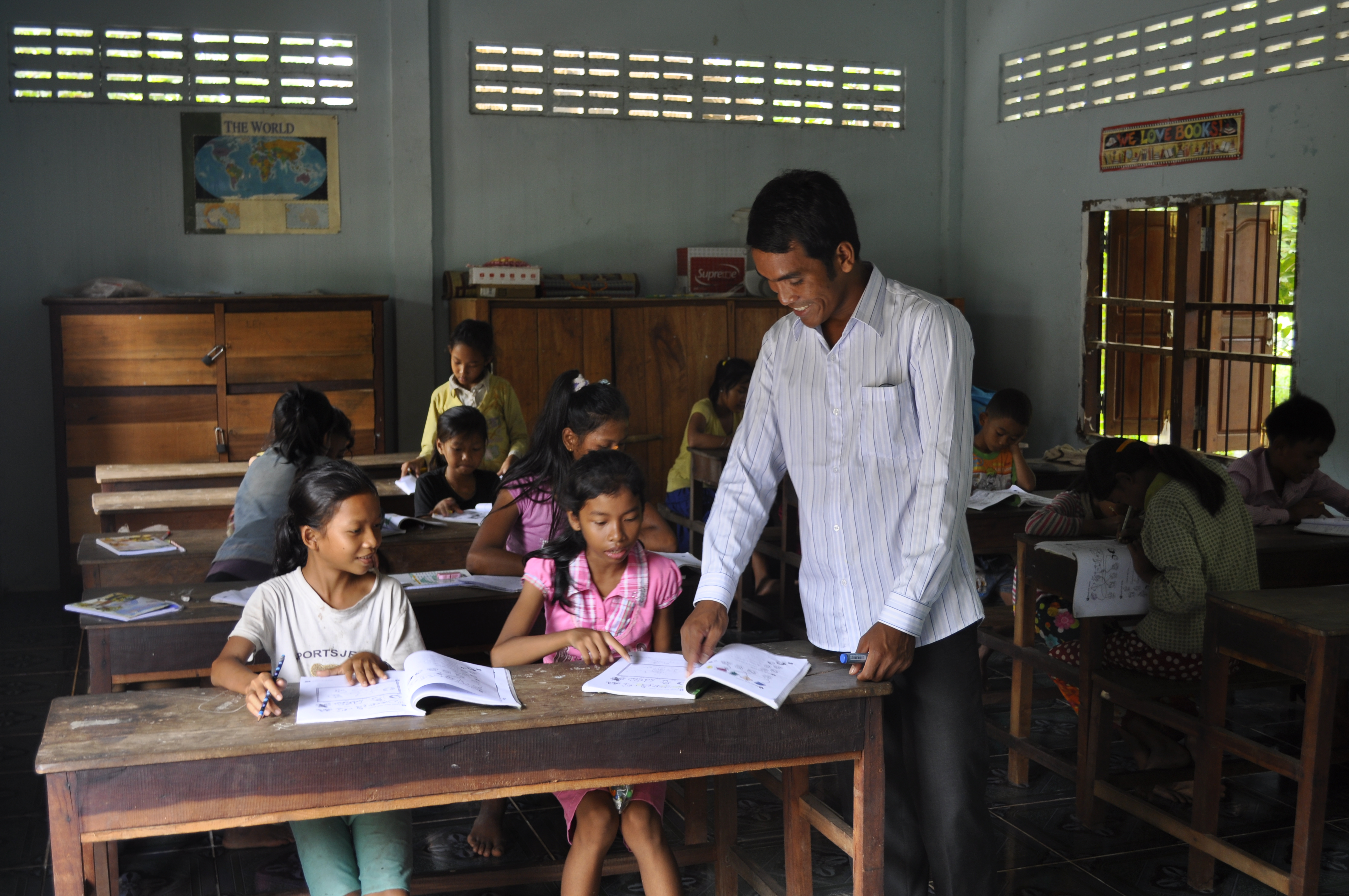 The new building provided a modern learning space, siting more students comfortably. With the help of solar panels we also able to have class in the evening. The building also contains a small library in the back with English books students can borrow.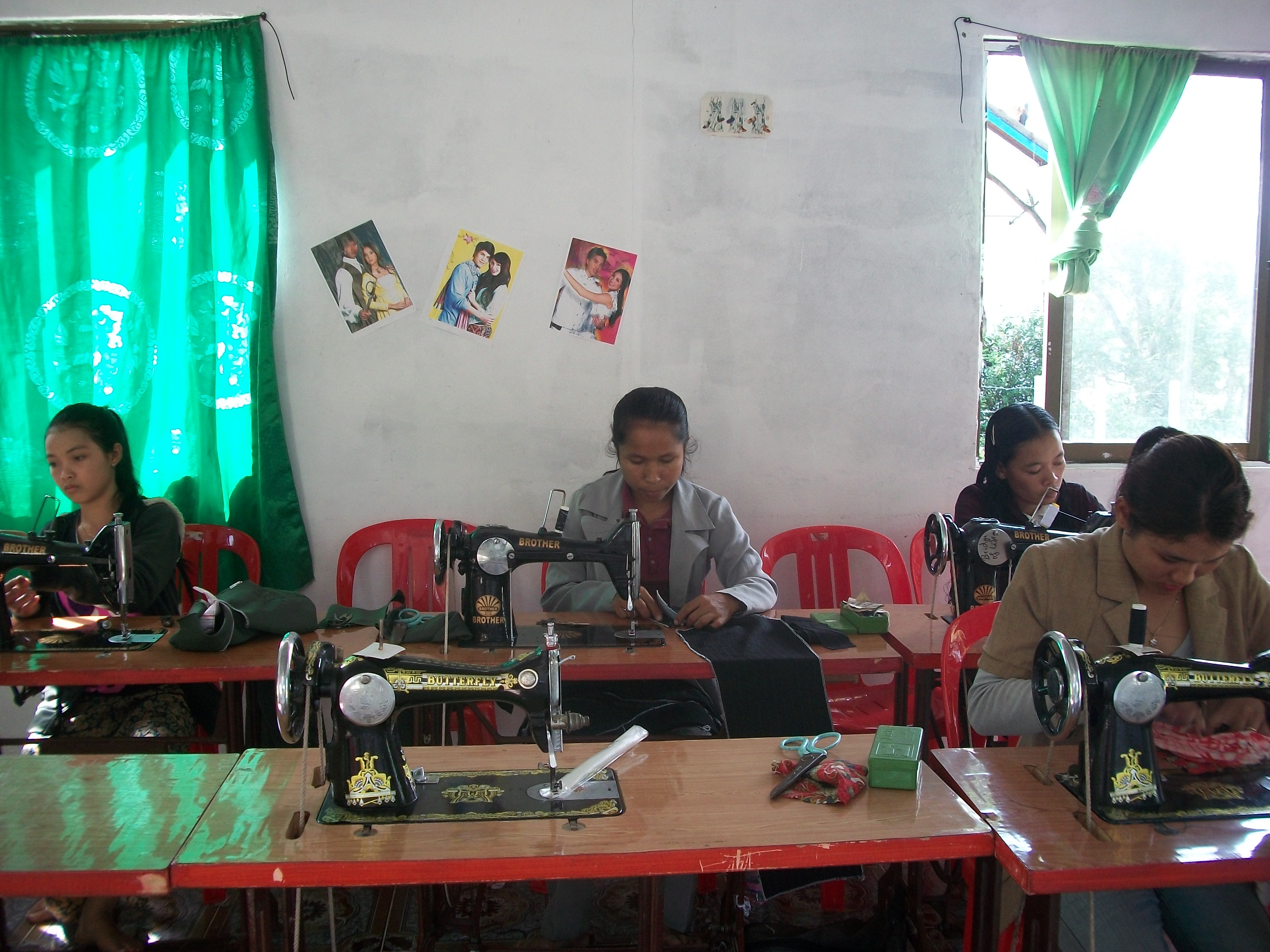 The school soon expanded to meet additional needs. In the spring of 2010 a sewing course was designed and a building was constructed to house the program next-door. We also constructed water wells and distributed clean water filters to residents.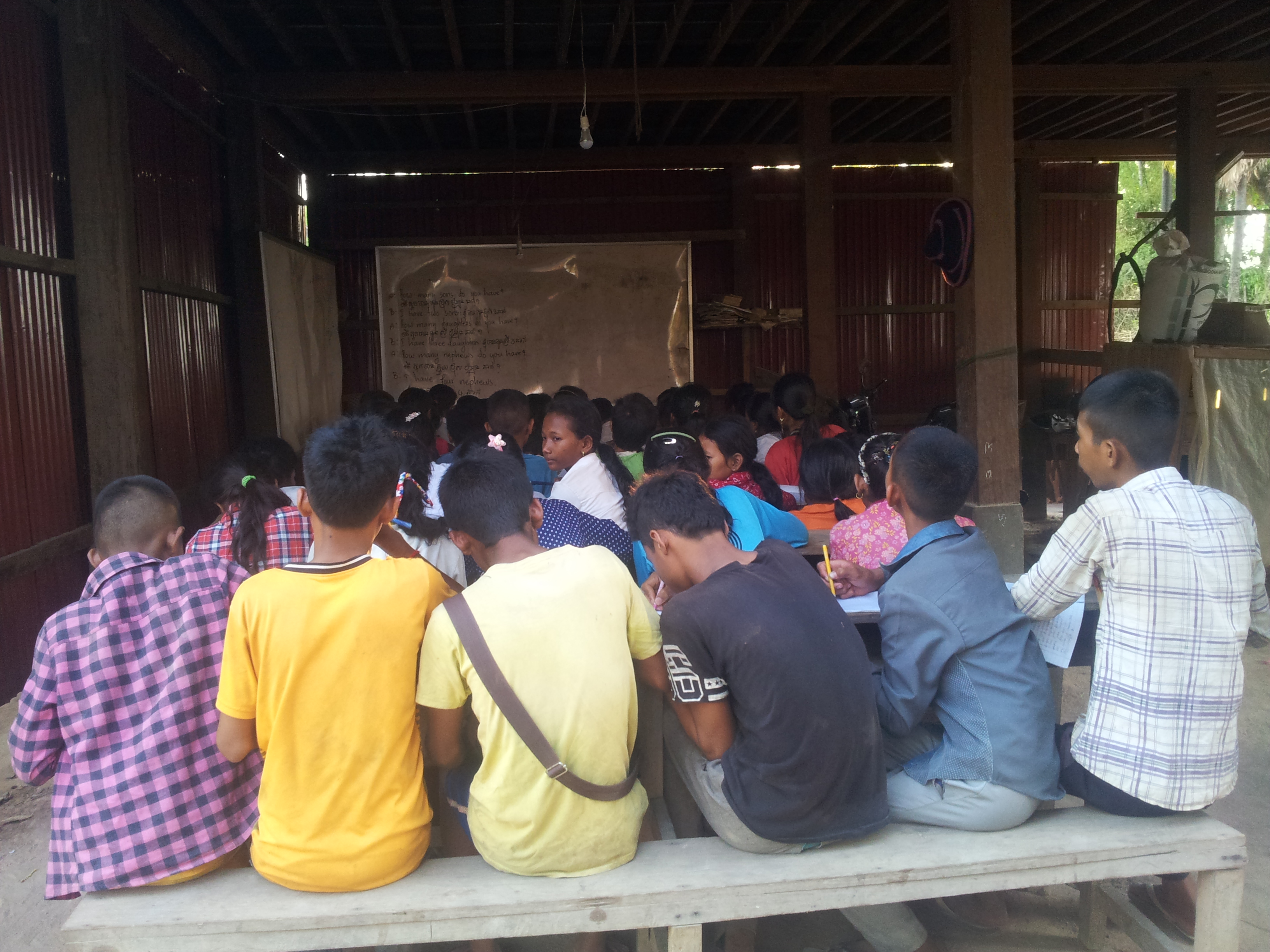 In 2011 we expanded into Kompong Thom, opening an English school under the direction of Chea Ing. Like Sok, he dreamed of opening a school in his hometown. We partnered with the pagoda, built a school, and offer free classes for students.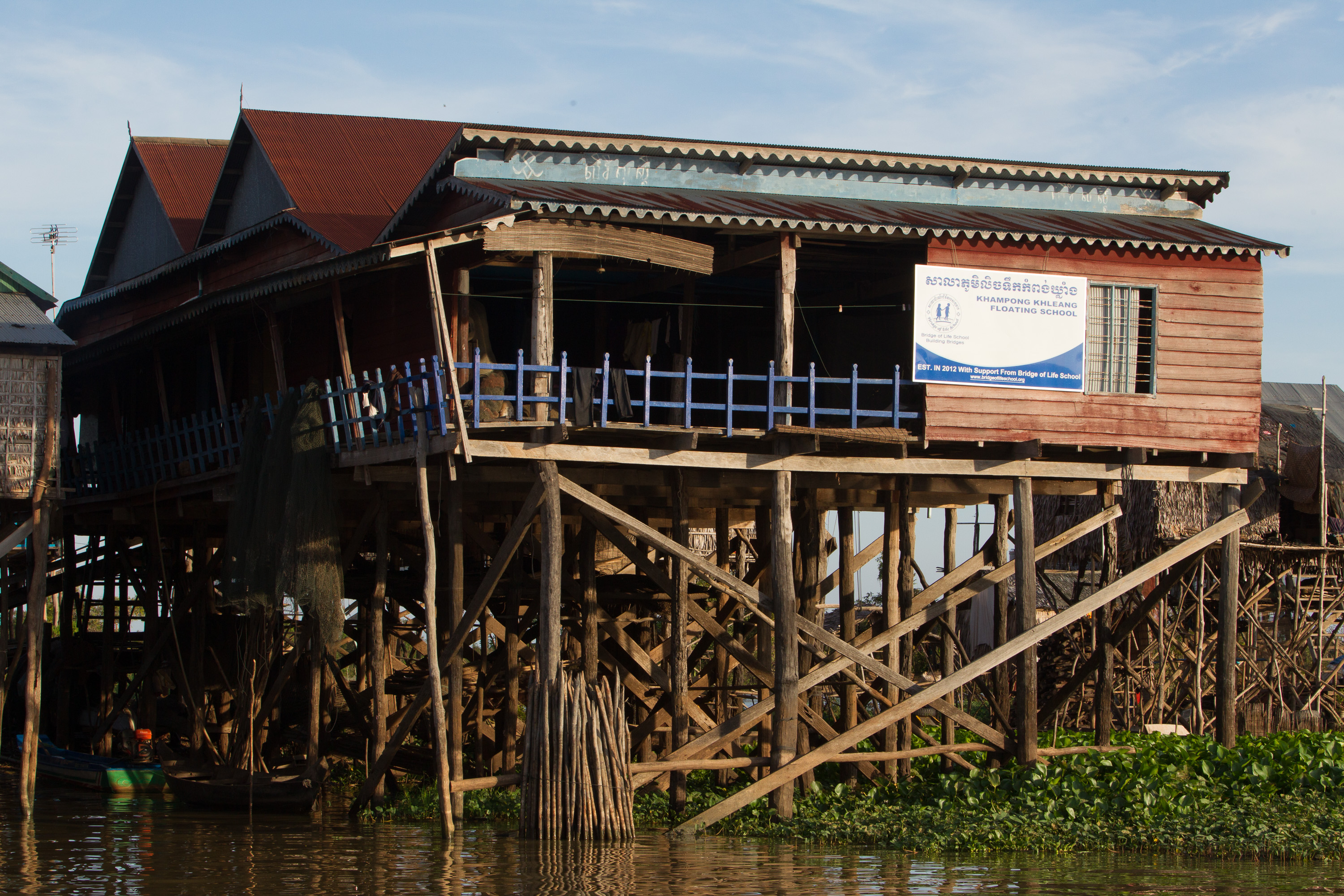 In 2012, we began working at our third site, Kompong Khleang, a floating village outside of Siem Reap. We offer pre-primary education so students could begin learning at an early age as well as a boat which shuttles kids to the government school for free.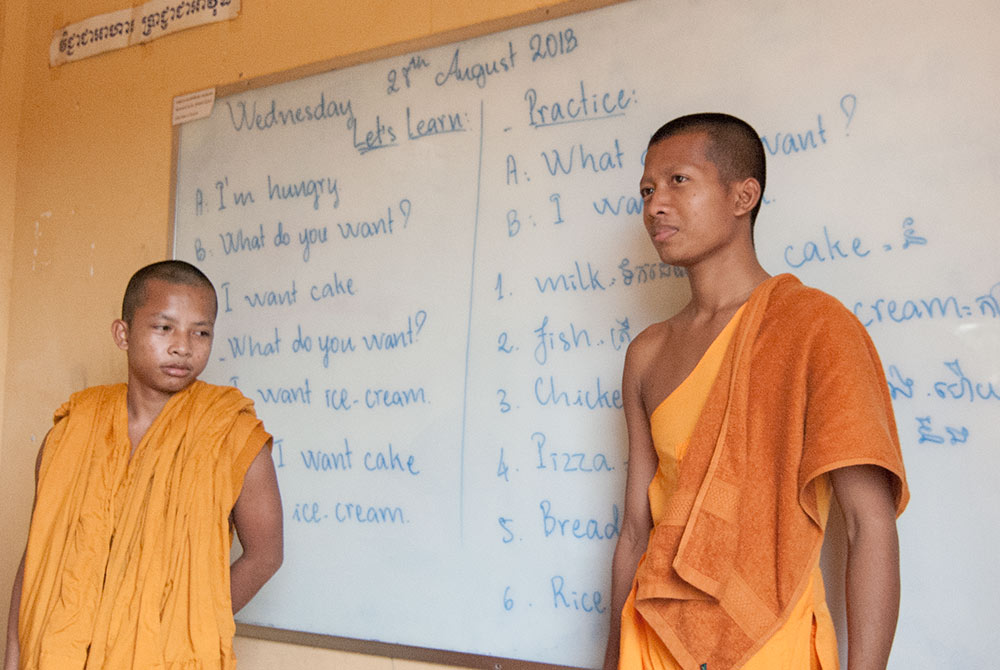 Our most recent site is Wat Tram Neak, a Buddhist pagoda in Siem Reap. We offer English language classes as well as a computer course for monk and local residents so they can prepare to eventually work in the vibrant tourism economy.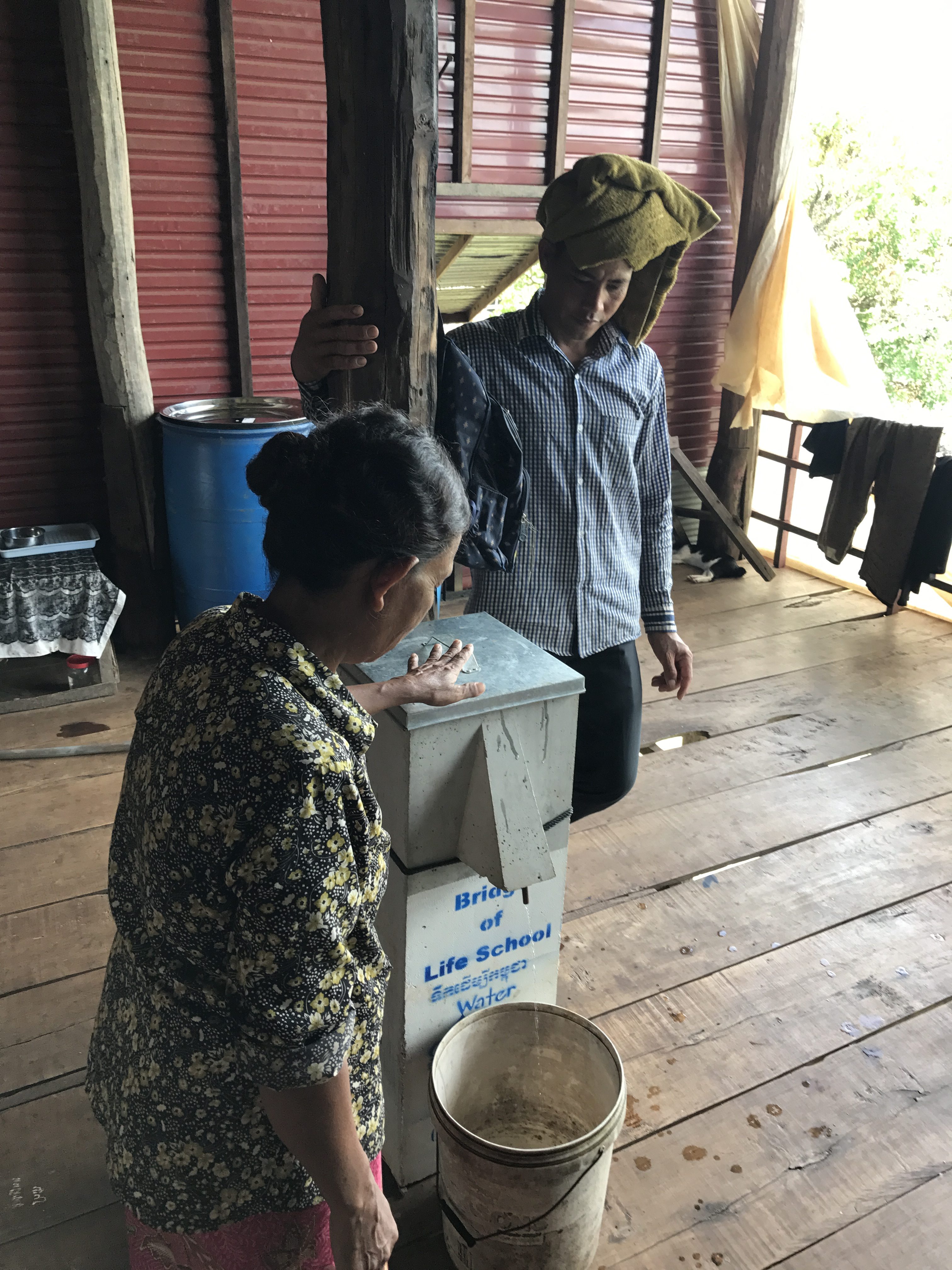 In 2017 we refocused our efforts on Kompong Khleang as the situation is the very critical. We purchased biosand water filters for 35 families so they have clean water for the first time in their lives and plan to open our second sewing school.
Values
We value our motivated students and communities who actively participate on their own accord, without financial compensation.
We value our local team and consider ourselves a Khmer organization. We hire Khmer staff who come from and have a direct relationship to the communities where we work.
We value transparency and honesty. Our approach is grassroots and we feel obligated and comfortable sharing our development highs and lows with all stakeholders.
We value community ownership and are focused on creating a sustainable organization through social enterprise.
Mission
The mission of Bridge of Life School is to provide educational and community based programming based on community input and need as well as our own organizational capabilities. We do this through a Khmer led, community supported approach. Through our programming we are able to build bridges to opportunities previously unavailable, such as meaningful employment in the tourism economy, and solve critical problems that are still unresolved, like clean water in the villages.
Soriya
Born to a poor family in the Cambodian countryside, Soriya works as what is called a pagoda boy in Cambodia – staying at Wat Tramneak assisting monks in return for free housing and food. He is passionate about languages and was hired as an English teacher at our free pagoda school. He enjoys learning additional languages and in his free time teaches introductory classes in Japanese and Spanish for fun. Soriya is currently studying at Build Bright University and expects to finish his Bachelors in English in 2019.
That
That is a part-time accountant for Bridge of Life School. Originally from the countryside he moved on his own to Siem Reap to support his four younger siblings (while making trips home to the rice paddies to help out on Sundays). He has been studying accounting since 2008 and has worked as our accountant since 2010. He now holds a M.A. in Accounting from Building Bright University and works full-time at a large microfinance institution. He is married and has one child on the way.
Chea
Our longest-serving, full-time team member, Chea teaches English language classes in Kompong Thom province. Born to a poor family, Chea left home at eighteen to become a monk where he stayed for 10 years studying and later teaching English. Upon leaving he moved to Siem Reap where he found employment at a private school. He was hired in 2011 to open our English language classes in Kompong Thom. Chea is happily married with two children.
Synoun
Synoun didn't attend high school but took up sewing when she was just 17 years old. Over the years she has honed her skills and now boasts over 20 years of experience sewing, capable a making anything from local school uniforms to complicated upholstery. She briefly worked as a private sewing teacher and has been leading our sewing program since 2010. Synoun now lives in Siem Reap city as is married with three children.
Paren
A former Bridge of Life English student, Paren is originally from the floating villages of Kompong Khleang but grew up in Banteay Srey. After learning English he worked in the hospitality industry and later a large NGO before being hired in 2012 as an English teacher. He currently manages all of Bridge of Life's educational programming and works as a tour guide for Community First where he shares his homeland. Paren has a Bachelors Degree in Business Administration.
Sea
Sea has been working in the aid sector his entire life. Earlier in his career he worked for Bridge of Life School as an English teacher but, passionate about clean water related issues, he left to work at Splash and later Water for Cambodia. Sea is currently employed full-time at —– but he works as a clean water consultant for Bridge of Life, monitoring biosand filters in the floating villages and tracking progress. Sea has a bachelors degree in and is married with two children.
Eddie
The co-founder of the organization following a volunteer experience in Siem Reap, Eddie has been assisting local staff with programming and leading the development arm of the organization since its beginning in 2009. Originally from the United States, he has been back and forth between Cambodia and lives most of the time in Siem Reap. He has been more recently focused on building a financially durable organization through social businesses. Eddie has a Bachelors Degree in Spanish and Theology.
Eatt
Eatt is 28 years old and originally from Angkor Thom district. In high school he studied both Khmer as well as computer programming and repairs. Upon graduation he moved to Battambang province to pursue a Bachelors in Law and taught computers part-time at a private school. After completing his degree, he moved back to Siem Reap where he has found employment as a law clerk. He works at Bridge of Life School as our computer teacher in the afternoons and hopes to open his own computer repair shop.
Narin
Sarin was born in Kompong Khleang, a floating village, and has been living there his entire life. He was monk where we was educated and completed his education. He later worked as a teacher at a primary school at Wat Kompong Khleang. In 2012 he was hired to teach pre-primary education at our school in Kompong Khleang. He continues to teach as well as manage additional programming in the village. He is married with two children and, while a teacher, still enjoys fishing for his family during his time off.
Phanin
Originally from Oddar Meanchey province, Phanin has been living been living as a monk in Siem Reap for several years. He is currently studying English at the Cambodian University for Specialties and working as an English teacher for the beginner classes at Wat Tramneak Pagoda. In his free time he enjoys reading and learning new languages. He looks forward to working with Bridge of Life and hope to be a full-time teacher in the future.
Koamnou
Koamnou is from Tachrorneing Village in Kompong Khleang, a floating village about 55km from Siem Reap city. She serves as the sewing teacher at our site in Kompong Khleang. She learned to sew from an NGO in 2006 and, prior to working as a teacher, altered wedding dresses in her family's home. She is grateful for this job opportunity and excited to be able to teach sewing skills to other students in Kompong Khleang.
Kimsang
Kimsang comes from Tachrorneing Village in Kompong Khleang. He completed primary and secondary school in the village and attended high school in Damdek, where he studied computers. After finishing he went to the teacher training school and was able to find a job at a primary school in Kompong Khleang. In addition he teachers computer classes at Bridge of Life's Free Computer Lab in the village.
Child Protection Policy
Bridge of Life School believes the welfare of children is of paramount importance. We are committed to taking all reasonable steps to promote safe practice and to protect children from any form of harm, abuse or exploitation. We have had no issues to report to date, and there are a number of safety policies and procedures we follow to ensure this Including:
Requiring all staff to participate in a one-day child protection training hosted by a leading organization in Siem Reap.
Ensuring staff and students know how to be aware of any signs of abuse and understand the proper way to report it.
Maintaining rigorous recruitment and selection processes for staff and volunteers
who work with the non-profit in any form, including background checks.
Ensuring parents have an understanding of the procedures in place to protect their children.
Bridge of Life School upholds a 'zero tolerance' approach to any forms of abuse, exploitation or other misconduct that poses a potential risk to any child. Any suspicions or allegations of abuse will be taken with the highest degree of seriousness, reported to the police, and investigated to the fullest extent so that swift and appropriate action can take place.
Families with Clean Water