Dear Friends,
We hope this message finds you well. We are excited to provide a year-end update on Bridge of Life's work in Cambodia.
Unfortunately, 2021 brought many of the same challenges as 2020. To make matters worse, Covid transmission accelerated in the country leading to further lockdowns and school closures for over six months. As a result, many of our plans and programming was halted.
Nevertheless, we still accomplished some significant feats and the last few weeks have been hopeful with the nationwide reopening of schools. We remain optimistic for the New Year and are motivated to continue the positive work that your support has made possible.
In addition, we were able to keep all local staff employed during this difficult economic time. It made a world of difference for them and their families during such uncertainty.
Thank you for being a part of these efforts. Please enjoy the update and consider supporting us with a year-end donation so we can build momentum into the New Year.
---
Food & PPE Aid for Resident of Kompong Khleang
Earlier this year, before Covid arrived in Kompong Khleang, we were able to conduct another food distribution providing 10 kilos of rice, instant noodles, and other cooking ingredients for 452 families. We also donated masks and sanitizer for the district hospital and commune health center.
Geoff was kind enough to document the event and we are excited to share the video he created below that gives more insight into life in the community during these difficult times. Thank you to Developing World Connections for supporting this event and previous food distributions in Siem Reap.
---
Floating Home Build
One of the highlights of 2021 was the fulfillment of our promise to build a home for a family in the floating village. Their previous home was small, exposed to the elements, and not suitable for a growing family. While the project was delayed multiple times, we were able to complete the project in December.
The family now has a structurally sound home that provides more space, protection during the rainy season, and won't have the expensive repairs and maintenance of their previous home. We look forward to supporting more home builds for in-need families in the future.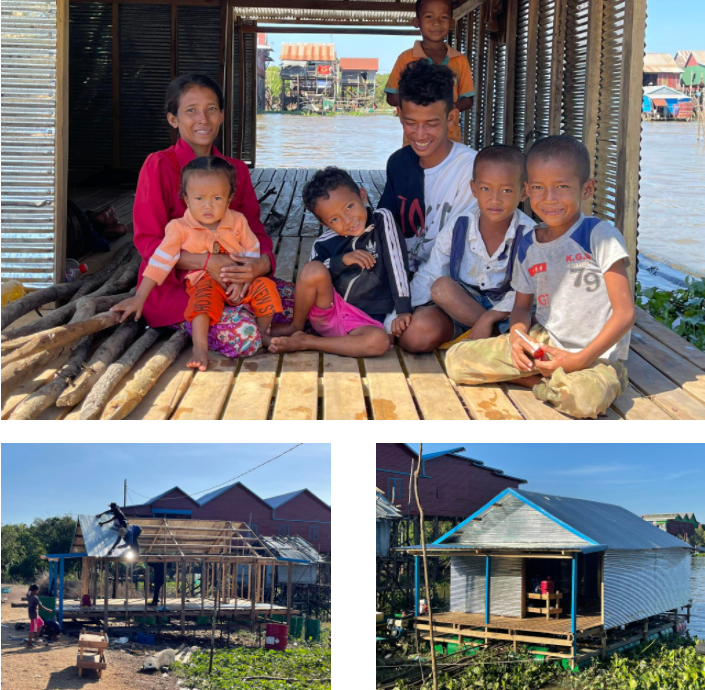 ---
School Programming Resumes
In November, we were finally allowed to reopen our sites after more than six months of inactivity. As of today, we are again offering English language and computer classes at sites in Stoung in Kompong Thom and Wat Tramneak pagoda in Siem Reap. We have also resumed pre-primary instruction in Kompong Khleang. We hope to eventually resume our computer classes in Kompong Khleang as well.
As many of the laptops have aged since they were first donated, we purchased ten new desktops for our school in Stoung. The staff and students were thrilled to have an updated learning experience when they reentered the classroom.

---
A Special Thank You to Recurring Donors
We wanted to take a moment to specifically thank again those of you who participated in the partnership program or have committed to recurring donations. As mentioned, despite the closure of schools and limitations, we were able to keep all Cambodian staff employed. This was only possible due to your help and it made a significant difference for them and their families who faced scare opportunities elsewhere.
As we approach the new year, we are hopeful we can continue to keep everyone employed, even if we face a return to restrictions with more variants.
---
Thank you for taking the time to read our email update. We genuinely appreciate your support and your unwavering commitment to the staff and students during the pandemic.

Please consider making a donation today so we can continue our efforts. Thank you again. Please take care and Happy Holidays.
Sincerely,
The Bridge of Life Team